TT Thursday: First week weight loss challenge done
TT Thursday: First week weight loss challenge done
Woo hoo!  So far I've lost 3 pounds in my first week of the HealthyWage  weight loss challnge that I've just started and I wasn't even dieting yet. I've pretty much kept my commitment to walk daily (well almost daily, lol) to start my weight loss program.
TT is my little joke.  I'm going to call Thursday my Thunder Thighs post.  It's my post to track how I am doing in my weight challenge.  As most of you know, last week I joined HealthyWager, the Personalized Weight Loss Challenge, betting myself $30 a month that I would lose 65 pounds at the end of 6 months.
I am starting slow, the first week I wanted to put walking back into my life.  I was a lot more out of shape than I thought but I am beginning to be consistent about walking a mile each day.  I walked a couple days in Tempe and missed the next couple days (driving back to Tucson and no excuse the next day, just tired).
As it's hot here in Tucson, high today is supposed to be 104F, I go to Park Mall to walk.  Their website had a walker section and stated walking inside the whole thing would net you 0.90 miles. The first time I went around 8am on Tuesday, no stores were opened, of course, but  I was surprised there were so many walkers.  People in duos and trios walked around.  I started swinging my arms in circles for stretches and no one gave me weird looks.  It's a great place to walk in an airconditioned setting.
Wednesday I didn't walk quite a mile I don't think because I went to San Xavier Mission to take photos but I did also walk up a nearby hill which the web stated was 1/4 mile.  I am not sure how much walking around the inside and outside of the Mission is.
I need to figure out how to measure my walks.  I got the fitbit  flex 2 so I am hoping it will do that. However, when I struggled to put the clip and the little fitbit module into the large band, the fitbit recorded 21 steps!  So it records some wrist movements I think as a step which worries me a little. It tracked 763 steps so far today.  All I've done is walk around the house doing a few things, read a book and typed, working on this post. I don't see how that can be 763 steps.  However it's not that big a problem.  I can check my start point of steps before I walk a mile say from Broadway to Speedway and then subtract.  That should give me a good number for anywhere.  Maybe I should have gotten the Fitbit Charger 2, but the Flex 2 was about half the price and you can take it swimming.
HealthyWage is working for me. Since I am using their website to monitor my success, you'll probably hear a lot about them during my weight loss challenge. Besides to me, it's obvious HealthyWage wants you to succeed. On your dashboard, you can go to your different challenges (I'm in 2, one for 6% loss in 3 months and the big one for 6 months) and view how you are doing.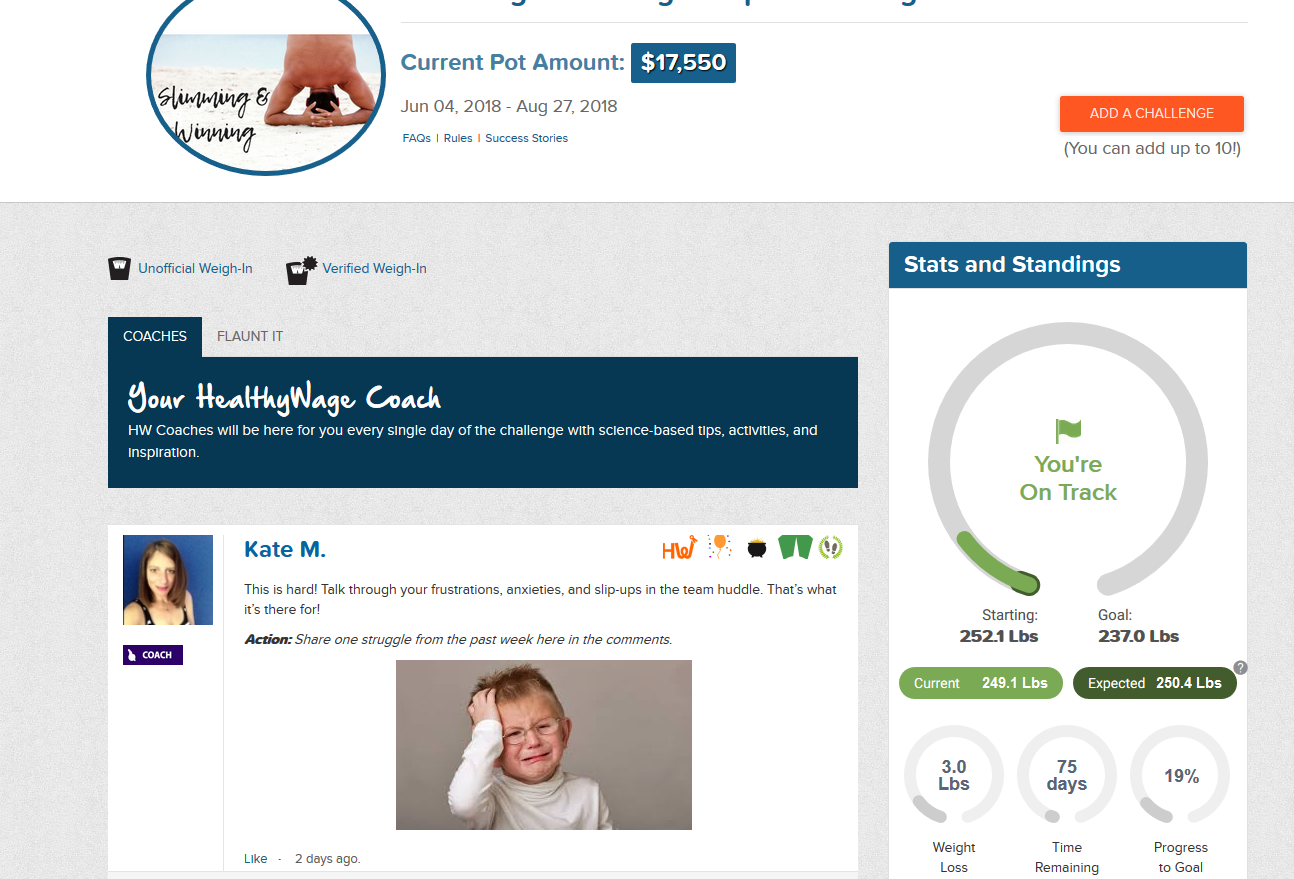 This is my view of the Slimming & Winning challenge for today.  On the left you can see my starting weight 252.1 pounds and my goal of 237 pounds.  Below that under current is my last weigh-in (today) of 249.1 lbs.  If losing weight was linear, which it is not, my expected weight lost by today to be at 237 on August 27 is 250.4.  It shows how much weight I've lost so far, how many days left and how far I've progressed towards my goal.  It helps me to look at the current vs expected because I can monitor my progress.  The thing though is not to get too hung up on each day but rather the overall progress because losing weight is not linear — you might have sudden drops, plateaus, slight gains.
I am not doing as well on the HealthyWager, my 65 pounds/6 months Personalized Weight Loss Challenge. It's not lit up in green like my Slimming & Winning Challenge because I am at 249.1 and should be at 248.6 if I was losing in a linear fashion.  I'm only half a pound from turning green.
Another way HealthyWage encourages you is a forum to talk with others who are doing the same challenge.  Each day the coach, in this case Kate M., will give a tip or encourage you to share.  I won't share what other's have said but people respond or they start a new conversation.  If you get stuck, people will jump in with encouragement or examples of what they tried that helped them. However, I may end up getting this socialization/encouragement need met here on my blog from you all.  It was most difficult to out my weight at 250 pounds but I did. I feel comfortable sharing my fitness/weight loss journey with you all but others may not have that outlet. You need a space where people will be kind and encouraging because plateaus and slips off the wagons happen and a "don't give up", "you can do it" and a pat on your back can get you through those times.
On the HealthyWager Challenge (the where you set your own bet/weight goal/time frame) chat forum, they will also drop small announcements of when people have finished and achieved their goal.  Look! Kylea just won $2,140 for losing 16.41% of her weight.  I clicked on her name and it showed she did it over 6 months.  It didn't show her start and end weight though.  Darn, I was curious.  I hit the like button but then added "Congrats!" in the comments (not shown here). In the Slimming & Winning challenge, you don't have that because you all started at the same time and will finish at the same time.
Last week I shared a Today show segment showing in a recent Mayo Clinic study on weight loss, 62% of the participants who received cash incentives stuck with their weight-loss program and lost weight versus only 26% of the participants who received no incentives. That was one of the reasons I bet on my weight loss with a HealthyWager from HealthyWage.  Winter was a bit skeptical but did some research and thought it was a good thing.  Still both he and Carol are concerned I may have set my goal too high and may lose my money.  The thing is because I don't want to lose my money, it helps motivate me.  It's more important to me, though, to get fit.  The weight loss should be a byproduct of that.
So now my next goals for this week is to walk at least a mile daily and gradually increase it.  I hope to be at two miles by the end of the week.  I also want to start up some back and stomach exercises to strengthen my back. Oh and flexibility/stretching exercises.  Hmmm, that's a lot.  Ok, I commit to starting up in one of those categories.  No need to do everything at once — this is going to be a long-term commitment so there is time to add things on gradually.
I also will start the The Paris Diet
(1990).  It's a diet I've done before, decades ago, which worked for me and I liked because the cooking is fairly simple and they have veggie recipes too. It was fairly easy to follow the food plan too. The Paris Diet
is not a trendy new diet but I'm ok with that. I am not going to give up meat but I do want to shift my eating habits towards more vegetables and fruit regularly.  So my goal on eating is to start The Paris Diet
tomorrow and follow it for 5 days out of 7. I want to leave 2 freebie days because I like to take food photos for Tummy Tuesday. Oh, and another goal is to turn my HealthyWager green.
So my goals for the week:
walk daily, at least a mile and gradually increase to two miles
start up 15 minutes of exercise in one catgory
start The Paris Diet, 5 days out of 7
turn my HealthyWager circle green
References:
Park Place Mall
5870 E Broadway Blvd
Tucson, AZ
Mall Walking Hours:
Monday-Saturday: 6:30 AM – 9:00 PM
Sunday: 8:00 AM – 6:00 PM

On Amazon:
Disclosures: I have signed up to be an affiliate for companies on this page. I may get a fee or commission if you click a link to join a program or purchase something. Amazon disclosure: "We are a participant in the Amazon Services LLC Associates Program, an affiliate advertising program designed to provide a means for us to earn fees by linking to Amazon.com and affiliated sites."
Disclosure:  I went ahead and signed up as a HealthyWage affiliate.  If you join through the links above, I'll get a commission.  However, they also have a friends link, if you join up by clicking this friends link, it adds a $40 to your HealthyWager award if you complete your goal and $40 to my HealthyWager award if I complete my goal.  Neither of us gets the $40 if either person fails.   I think the $40 is for HealthyWager challenges only and not the other ones like the 6% individual challenge or the team challenge. The HealthyWage affiliate link doesn't matter if anyone succeeds but there is no benefit for the friend, just for the affiliate no matter what kind of challenge they join. I think joining through the friends link also lets you view your friend on the dashboard: you'll see their name and what % they've lost so far but not the actual weight.  That's private unless you make it public.