TT Thursday : Week 10 Weight Loss Challenge
TT Thursday : Week 10 Weight Loss Challenge
Ok, finally got home. So starting back up on getting back on my weight challenge tomorrow.  Have been on  a plateau for the last two weeks — good thing is that I didn't gain weight despite eating like a normal person.  I can live with being stuck on 233 since I haven't been climbing despite eating carbs.  I also ate salads and vegetarian but there was that barbecue at Lupin so ….  However, I also got a lot more exercise there.  A lot of walking.  It was a tad rustic at the mountain retreat so I had to walk uphill to use the loo and a little further to the showers.

I won my HealthyWage 6% weight loss mini-challenge!  As you know I'm on a HealthyWage challenge to lose 65 pounds over 6 months.  I had also joined a little HealthyWage potluck challenge called Slimming & Winning Jackpot Challenge which started June 4th and ends August 27th.  Everyone who lost 6% gets a share of the pot.  We all put in $20 for 3 months so paid in $60 each.  Weights and ages varied a lot with 455 participants total.  I started at 252.1 and losing my 6% means 237.  You can submit your final verification in the final two weeks starting August 13th if you have achieved your weight loss. Yay!  I made my final verification video today and sent it in.  I weighed 233.7.  So if my video passes muster, I get a share of the pot.  The pot is $20, 835. So far 157 successful participants have achieved their 6%. I don't know if that is all verified weights as we also do unverified weekly weigh-ins.  Right now the success rate is running 35% which seems a little low to me but there are ten more days to go.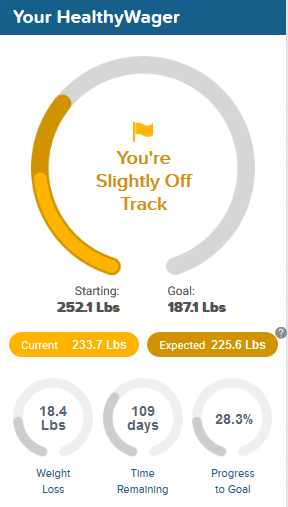 That's the thing about long-term goals.  Little goals help to encourage you on your way.  I am not doing so hot on the big HealthyWage.  Because I was not strict on my vacation two weeks, I was plateaued so I am in the yellow.  I need to get down to the lower 220s to be back on track.  So this weekend I am going to be very very good!  I just have to stay away from people for a couple days. Everyone keeps wanting to feed me!  And I am really tired of saying no all the time.    I think this weekend I'll try either fasting or eating vegan.  We'll see.
So I've joined another 6% challenge, another little goal to encourage me.  The cool thing is that Kate is the coach on this one too.  I like her health info bon mots.   Since I am starting at 233, my new 6% off goal is 219.7 pounds starting August 17th and ending November 9th.
Improvements?  I have a pair of underwear I can no longer wear because it keeps falling off my hips.  Really!  that's encouraging, right?  My pants are starting to sag in the butt department — hey I'm getting fashionable!  And my stomach which used to feel like a hard ball puffed out to dough boy proportions is beginning to look deflated.  And the big thing for me is that even though I started eating 2-3 regular meals a day for the last week, I did not gain back weight.  I'd been stuck on 250 for decades so I'm happy that my body has anchored 20 pounds lower.  You have not idea how hopeful that makes me feel.
So the plan this week — no lattes!  Weeps copious tears.  Ok, maybe one latte this week.  Cheers up instantly.  No soda. And no carbs. No pasta. No rice.  And maybe pull out a Japanese cookbook — I like the way they do vegetables.
Sorry guys,  I usually serve up something useful but I'm a tad behind this week due to returning from California. I still haven't put everything away.  Found some cool cookbooks there. I'll have an article or good links to share next week.
—————————–
HealthyWage Disclosure:  I am signed up as a HealthyWage affiliate.  If you join through the links above, I'll get a commission.  However, they also have a friends link, if you join up by clicking this friends link, it adds a $40 to your HealthyWager award if you complete your goal and $40 to my HealthyWager award if I complete my goal.  We don't get the $40 if we fail.  I think the $40 is for HealthyWager challenges only and not the other ones like the 6% individual challenge or the team challenge. The HealthyWage affiliate link doesn't matter if anyone succeeds but there is no benefit for the friend, just for the affiliate no matter what kind of challenge they join. I think joining through the friends link also lets you view your friend on the dashboard: you'll see their name and what % they've lost so far but not the actual weight.  That's private unless you make it public.