Cat Phone
This is a fun one. Wouldn't you like a phone like this?
In Artbreeder, if you suggest artists like a ceramicist or sculptor, it will turn your image into a ceramic or sculpture, not always but sometimes.  Working with an AI is for me never a "always" but the sometimes pops out some unusual combinations.   I was trying to create an image of a cat wearing a bluetooth headset but was having no luck. So I remembered Shirayamadani.  I threw his name into my description and bam! I didn't expect my cat to turn into a telephone but it's very cool.
I am Okinawan American and Okinawa is now a prefecture in Japan, so a while back I did a research project to find out about Asian American artists.  At that time I found out about Shirayamadani.
Kataro (Kitaro) Shirayamadani (1865-1948)
Shirayamadani made beautiful vases and other things. I haunted ebay for awhile trying to get something by him but he was always out of my price range no matter how small the item. His Rookwood pieces are very collectible. Rookwood Pottery was an American ceramics company that created gorgeous vases and other pottery between 1880 and 1967.  Kataro (Kitaro) Shirayamadani did lovely paintings on Rookwood's pottery from 1887 to 1948 and also designed pieces.  His name is Kitaro but probably through a misspelling he is credited as Kataro for his work in America. His American friends often called him by his nickname, "Sherry."
A Bit about Rookwood Pottery
At the 1900 Paris Exposition Universalle, Shirayamadani's vase took grand prize and is in the collection of the Philadelphia Museum of Art. His work was collected by many museums including the Metropolitan Museum of Art, Smithsonian Design Museum and the Carnegie Museum of Art.  Founded by Maria Longworth Nichols Storer, Rookwood Pottery was unusual in that it employed women artists when women had difficulty finding gainful employment outside the home. The company fell upon financial hardship during the Great Depression as their focus was art pottery rather than utilitarian pottery. The company was sold several times but the artists remained with the company until it closed in 1967. In 1982, pottery art collector Arthur Townley bought the Rookwood assets and began a small production again under the Rookwood name. In 2011, after acquiring Rookwood, Martin and Marilyn Wade opened full production in Cincinnati collaborating with artists to bring Rookwood back as an American ceramics maker although now they have more affordable utilitarian dishes and pieces as well as the art pieces; from $20 plates, to handthrown ceramics in the $150-$500 range and art objects  like the $6000 mounted hand carved time art piece. Still I hanker for Shirayamadani pieces from the turn of the century.
Back to Shirayamadani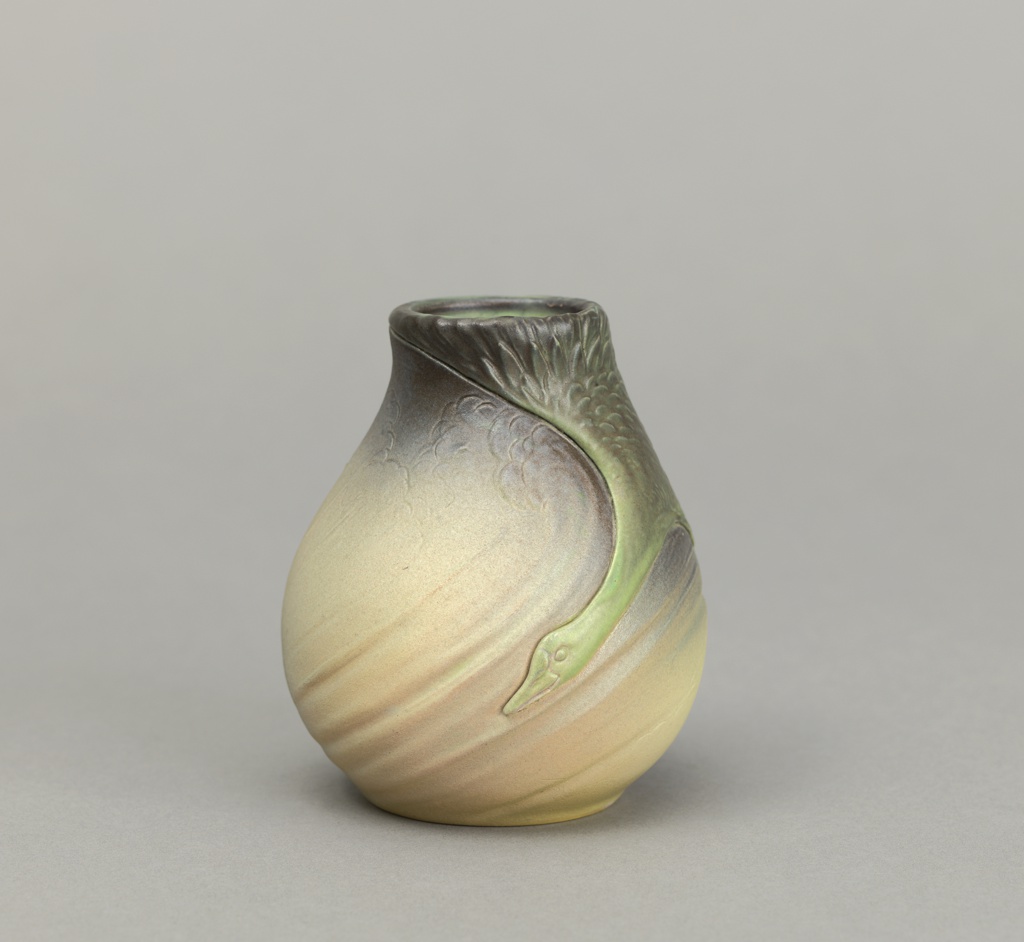 Storer met Shirayamadani in Boston in 1887 and invited him to work at Rookwood in Cincinnati. Except for 1912-1920 when he returned to Japan for a time, he worked for Rookwood until his death. It was not possible for Japanese to get American citizenship until 1952 with the McCarran-Walter Act so likely he had to return to Japan in 1912 because his visa ran out and it just took that long to get a new one. His style was unusual for the time combining his art training in Japan and influenced by his time in America. He painted the whole piece like a vase as a canvas instead of just the front often imbuing the artwork with a sense of realism.
To see some of his pieces: Mutual Art : Kataro Shirayamadani
also a google search in images for Kataro Shirayamadani is great as his pieces show up regularly at auctions, ebay and other sites where the photos come and go over time. If you search for Kitaro Shirayamadani, it will work as well but apparently there is also a popular comic called Kitaro so the results are more mixed up.