Tucson and California nurses volunteer in Puerto Rico, report on FB
Tucson and California nurses volunteer in Puerto Rico, report on FB
While Trump whines, plays the blame game and tweets to anyone who will listen his version of the story of his inability to get anything done, other people have been quietly stepping in. Food and water arrive but don't get released.  FEMA has helped a lot of disasters quickly but in the case of Puerto Rico, they have fallen down on the job. Meantime the RN Response Network and unions get volunteers down there to help.
Eureka, Calif, nurse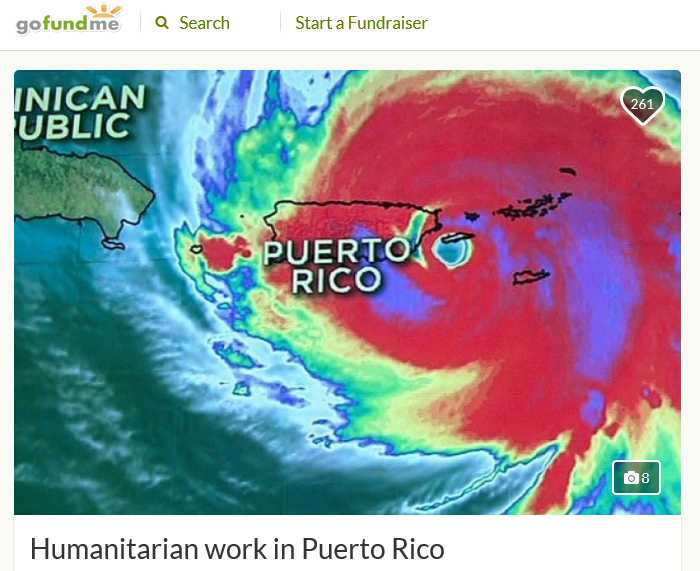 A Eureka, Calif. emergency nurse, Randee Litten, volunteers as part of the RN Response Network, going down to Puerto Rico.  Knowing food and supplies are needed, she set up a donation drive for folks to give money that can't go but want to help.  Everyday she reports on facebook the things she sees, what her team spends the money on and what they have done.
Yesterday, she reported, when FEMA finally released the bottled water, the Teamsters and some of Litten's team members went to pick up 7 truckloads of water to deliver.  The water people had been drinking contained leptospirosis bacteria which was killing people.  A couple days before their team bought milk and delivered it door to door.
The day before that she reported when San Juan's electricity shut off that night, the nurses and doctors rushed to the hospital to assist in transferring patients.
Tucson nurse
Tucsonian Klara Lynn Dannar is a psychiatric nurse working on the same team as Randee.  She also is making daily reports on facebook including videos. It's interesting as she and Randee highlight different things.  Dannar showed the stadium where they are staying.
Read the comments to Dannar's posts because people share.  When Dannar posted pics of the nurses packing medical supplies and a sandwich before going out to the neighborhoods, Cole German posted that Houston was also sending volunteers with 55 pallets of supplies. Kozma asked which groups accepted volunteers to work down there and Simpson replied, try the United Auto Workers as their RN workers went down with them and they are accepting people with a wide range of skills.
Dannar showed photos and wrote about the clinic they set up at the Boys & Girls Club HQ. They sent teams out to encourage people to come out to the clinic, treated 80 families and distributed food, water and medicines. On another day, she praised their busdriver for climbing on the bus roof to untangle downed powerlines to get them to their destination.  She posted they even marched to pressure FEMA into releasing supplies. FEMA finally released some water.
Also Dannar posts about how they have used the money Litten has raised, saying they use it everyday to buy supplies.  Today she reported they spent $1800 to buy food and supplies to sanitize their homes. Then they unloaded in the pouring rain to community residents. Litten reported her team found water and brought it in. The town of Caguas had been without food or water since the hurricane.
Supplies are hard to find.  Most grocery store shelves are empty.  They are doing what they can with the money donated.  Two nurses had to go home suddenly as they heard their homes were burned in the Northern California fires.
Dannar made this appeal an hour ago:
"We were out all day–pouring rain, flat tire, horriffic stories. Then we get back to the stadium and find out there are even more restrictions on assistance from the govt. Please, please put pressure at the top to help with the basics–food, water, electricity, healthcare. Thank you all for caring. We are all in this together"
Who else do you know down there?
Share their urls.  With the Fourth Estate being tweeted away, these eyewitness reports are the only way to get real news
References:
Humanitarian work in Puerto Rico: donation drive by Litten on GoFundMe.com
Photographs by Klara Lynn Dannar on her facebook taken by phone onsite.